Style Your Plain Salwar Kameez Using These Fashion Tips
If you like wearing ethnic outfits, you may have a wardrobe full of salwar suits. A lehenga or a saree is all fine to wear on a festive occasion, but you need a collection of salwar kameez to feel comfortable daily. It's easy to wear and doesn't cost you a fortune.
In North India, wearing a salwar suit is common among women. Be it a wedding or a casual party: one knows how to slay wearing an Anarkali or a Patiala suit. You can find inspiration from your favorite Bollywood actresses. They give us fashion goals when attending parties in ethnic wear. Kareena Kapoor Khan wore a floral kurta and salwar recently, as she got clicked leaving her abode with her younger son, Jeh. With so much said about salwar suits, one cannot help but adore this Indian outfit. Let's know how you can look stylish wearing a simple salwar kameez.
Wear a jacket
You don't have to buy an embellished party-wear salwar suit to look beautiful. All you need is to add style elements to stay in the fashion game: it can be simply wearing a jacket over your salwar kameez. You don't need to wear heavy jewelry or carry a designer dupatta. A jacket will suffice.
Now that we are talking about jackets, you should know your color. You can't wear anything and everything. So, make sure you choose a color that suits you. Or you can buy a jacket that complements your salwar kameez.
Avoid a straight cut kameez
You can buy salwar suits online. It's easy. What's not easy is finding the right style. If you are still buying kurtas with straight cuts, you better move on. There are a variety of styles available in the market. And if you keep yourself occupied with work, you can take some time to scroll through your Instagram feed when free. By doing so, you can stay abreast of the latest developments in the world of fashion.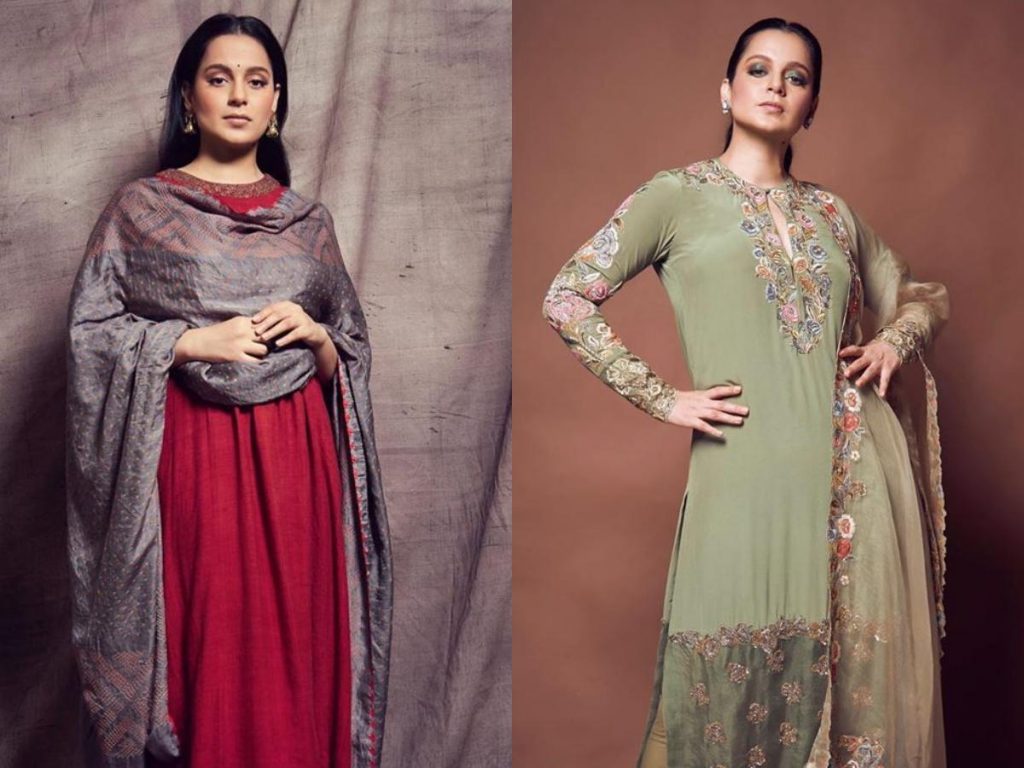 Kangana Ranaut never shies away from flaunting her ethnic looks. We adore her salwar kameez styles as much as we adore her choice in sarees. Deepika Padukone is another icon who slays with her ethnic style. One needs to know their outfits and how they can carry them with grace.
Try stylish bottoms
Gone are the days of wearing churidars to every wedding function. You can try experimenting with palazzo suits, Patiala salwars, dhoti pants, etc. Yes, we are talking about stylish bottoms, and you need to know the latest trends. If you prefer a party-wear salwar suit over a saree, it's better to pick something unique than going with the flow.
You can take inspiration from your favorite Instagram celebrities. As mentioned earlier, Kareena Kapoor gave us style goals wearing a floral kurta and salwar. How about finding something similar online?
Choose a designer bag
When it comes to wearing salwar kameez, we often forget to choose a matching handbag. We think we can do away with the existing collection. Well, it's time to change that. Carry a clutch or a potli bag. You don't have to buy a tote handbag or a sling bag. To feel easy and comfortable, you can go for a potli bag.
Choosing a party-wear salwar suit is not a big deal. But what matters is how you style it. Here, we are talking about styling a simple salwar kameez and giving it a fashionable look: every piece of accessory matters.
Carry a designer dupatta
You may have been thinking about what's missing. Is it a bracelet or a designer pair of heels? Well, it's a dupatta that's missing. A salwar kameez without a dupatta remains incomplete. Well, you can do away with the dupatta with a kurta and jeans look. But if you're trying to go all ethnic, you need a suit with a dupatta.
With that said, your dupatta should match your party-wear salwar suit. Not really, though. You can wear a contrasting color and still be a show stopper. Why not? It's about looking good and feeling confident. Whether you choose a net dupatta or a georgette one, you should know how to carry it with grace.
All these tips can help you look stylish in a simple salwar kameez. Now you know you don't have to walk miles or do anything special to style your salwar suit. One can find a variety of salwar kameez in the simplest of designs and turn them into stylish outfits.
Readiprint Fashions offers a huge selection of salwar suits online. You can find palazzo, Patiala, Anarkali, and many more styles in your favorite colors. What's more – you can also explore a range of lehengas, sarees, gowns, and dresses at the store. It's time to revamp your closet.